on
August 12, 2012
at
12:01 am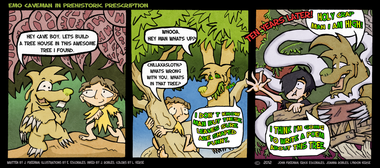 This strip marked the point of our departure from the usage of digital word balloons.  The available balloons generated by our programs were too hard to deal with and were not flexible enough.  So this is the start of hand drawn word balloons going forward.  We had tried to avoid drawing them before because we didn't feel confident about how they looked, but they look better to us and take less time to do than the ready made ones.  We just hope we don't draw them too small or the text will suffer.
Our inker Joanna found the previous strip a real challenge especially with the buildings in the third panel.  This strip too required the precision of a surgical knife, but she pulled through and it came out better than the original illustration.   The design of young Chillaxasloth was not too difficult, but young Emo Caveman took a lot of time to get right.  We tried several different color combinations for his hair and clothes including brown, grey, black, dark brown and orange until we settled on what you see here.
As far as coloring, this was the most fun for Lyndon to work with since the initial strip.  The balance of colors, contrast and the composition of characters came together in such a wonderful harmony by the end that we stood back and looked at it for some time.  So you could say we were very, very pleased with this one.